I

swear to God, Blogger hates me. It always fails to publish my scheduled blogposts whenever I do decide to use that (un)convenience. For instance, this post was supposed to go up last Wednesday but never did! Does anybody else find that happening alot to them too? Please do not tell me that I am the only one on the shelve!
There seems to be alot of clothes in this week's Wednesday Wishlist blogpost (again), so please do excuse the excessiveness. I am the content owner of an overflowing wardrobe yet I still find myself staring at it everyday, absurdly oblivious as to what to wear! Besides, I do not think my evergrowing penchant for clothes/fashion will EVER go away. Over the past couple of weeks the amount of clothes that I have bought or been kindly gifted is amazing. Nobody would be able to work out that I am an (involuntary) unemployed human lol; my meticulous budgeting skills certainly work a treat! Plus, everybody around me right now (
family, bf etc
) have been feeding my mania really well :)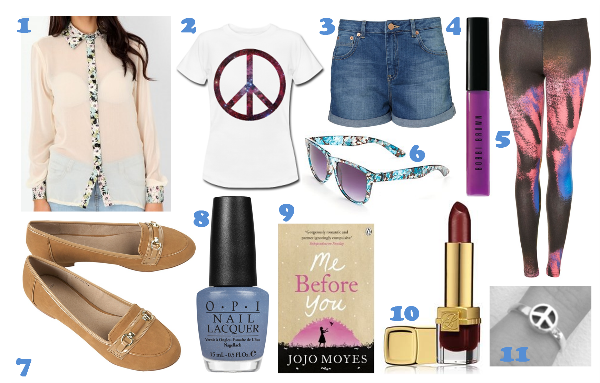 1) Missguided Adonela long sleeved sheer floral trim blouse - I am a big fan of shirts/chiffon blouses and everything floral as they look good all year round and can be dressed up or down to making them pertinent for all occasions.
This particular one from Missguided (I need to shop there more often!) is very tailored without much shape, so I will most likely wear it with blue denim like the model above just so the complete outfit does not look overly sophisticated on me. It actually reminds me of a red shirt that I bought from New Look yonks ago which was very shapeless on me too but looked perfect over skinny jeans.
2) Orange Circle cosmic peace sign t shirt - There were SOOO many designs to choose from! I had
severe difficulty settling on one! In the end I chose the cosmic peace sign as I think it was a nice place to start at. Slowly but surely I am getting more into wearing my whites/creams during spring/summer as whenever I have worn these colours in the past they have given a serene and tranquil ambience especially on days when the sun was blazing down my back! I want to get my bf one too and get a couple more for myself and maybe tie-dye, dip-dye, ombre-dye them? Maybe, we'll see.
3) Topshop moto turn up mid stone hotpant - Glad the weather had a change of heart and the sun decided to stick around for longer
♥
I plan on living in my shorts, skirts, tunics, maxi dresses, dresses in general all throughout summer this year. Currently, I actually don't own a pair of denim shorts and have been after some since last year! I can probably get good wear out of these and wear them in summer and winter. I have to say, I love the trims and the turn up.
4)
Bobbi Brown ultra violet lipgloss
-
My fascination with purple lipgloss recently is something I cannot fathom, I am
running low on my
Revlon
super lustrous lipgloss in l
ilac pastelle as I have been wearing it non stop! The Bobbi Brown ultra violet lipgloss is a sheer lipgloss which I am hoping will make a gorgeous love child with #10 below.
There may not be much purple in this post but thinking about it now, everything insignificant that I have bought in the last while has been purple! Purple iPod touch case, purple notebook, purple pencil case, even the amethyst earrings that I bought from a market stall last week are purple! Overkill!
5) Topshop black bright spray printed leggings - I absolutely love this print, it has my name written all over it. As the print is reasonably subtle you could probably get away with wearing these leggings during the day or at night. I am gona own the print terrain this year :)
6) New Look l

arge blue floral print retro sunglasses

- For some uncanny reason I have never bought myself any floral print sunnies before! As blue is my favourite colour I instantaneously grabbed these when I obscurely saw them in my local New Look branch...... these should not really be on the wishlist anymore haha.
7) Topshop vicar gold snaffle trim tan loafers - Me and my flats, nothing new here. I specifically adore the gold snaffle trim on these ones. Love a healthy walk in the countryside surrounded by buttercups, daisies and marigolds whilst wearing some comfortable loafers :)
8) OPI I don't give a
Rotterdam
! nail lacquer - I blame my new favourite girl who blogs over at B
eabarella
for this addition. She did a whole blogpost on this and I was sold!
9) Me before you by Jojo Moyes (paperback) - I love Jojo Moyes, just don't get to read enough of her stuff, hoping to build my collection soon. One day, I will be the proud owner of a Beauty and the Beast style library!!!
♥
10) Estee Lauder plum couture pure colour long lasting l/s.
11) Wired Jewellery peace above knuckle sterling silver ring - I am a noob on the bone of contention of above knuckle rings. As you can tell, I obviously have a 'peace' theme running throughout this week's wishlist lol, but I rather have a motif above knuckle ring then just another simple plain band as I have many of those already (different sizes, widths and all). Money soon please :)
Anybody else with a similar wishlist? Please send me links.